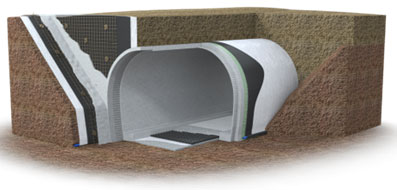 Geo Source makes and supplies, specifically designed, fabrics to be used in Tunnel Construction. Our Geo Textiles are primarily used in tunnel construction for the following functions:
Protection / Cushioning function to protect the impermeable Lining material
Filtration layer to prevent leaching of soil particles
As a Drainage medium to allow the free passage of water
Our Geo Textiles used in Tunnels are made from High Tenacity fibers taking utmost care of Thickness & Strength when used as Protection / Cushioning layer. We also make highly Permeable Non-Woven for tunnels which as used at the base of the tunnel for Filtration & Drainage purposes.
We make Geo Textiles for both Highway & Railway Tunnels and are currently supplying to many running projects in India.