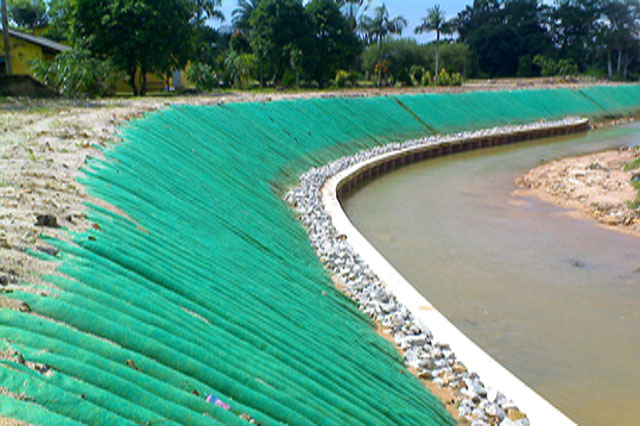 A Sand Filled Mattress is a flexible Erosion Control System that utilizes filter¬ cloth as pockets for granular infill of material. Mobility and Effectiveness makes this Erosion Control System a very robust and effective solution for Erosion Control. After installation, it provides instant and permanent Embankment Protection whilst bringing in green aesthetic look before vegetation is established.
Sand Filled Mattress provide Embankment Protection solution, such as: preventing erosion as well as repairing existing problem as it stays on top of the problematic surface. It is considered as an highly effective and economical solution for River Bank Protection Solutions as it replaces the method of using large quantities of expensive concrete¬ faced systems.
Geo Source is the only company in India to have a wide width (5.0 mtr) manufacturing line, established in 2018. Geo Source has the full-fledged capability to provide our customers with end to end solutions from Design to Installation for Sand Filled Mattress.
Application Areas of Sand Filled Mattress
Flood Control & Mitigation
River Bank / Embankment Protection Works
Protection of the sea¬bed around jetties
Protection of navigational canals and waterways
Advantages:
Easy & Cost-effective to Carry up to site
Fast & Easy to Install
Effective and economical Solution for River Bank and Estuary Bank Erosion Protection